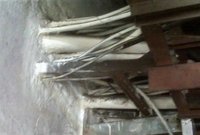 Fire Barrier
Price And Quantity
Product Specifications
1200 Celsius (oC)

20 / 25 Kilograms (kg)
BARRIER / WALL / SEALING

MINERAL BASED
Product Description
DESCRIPTION:
Â
• PFP 772 PRECISION FIRE-EX MORTAR BARRIER is anon-combustible fire
 protectionmortar to seal cable penetrations through walls and ceilings.
• It is designed to seal the penetration gaps suchthat the other side of the wall and floor areprotected from fire, smoke & heat.
• PFP 772, is upto 4 Hrs Fire Rated mortar barrier& it is pre-mixed dry blend,  Â
 consistingof minerals, inorganic fillers & fire retardant agents.
• When mixed with water it produces a trowel able orPourable grade.
• While curing, the mortar expands slightly &ensures an air tight seal around
 penetrationsand within the opening.
• Once installed, PFP 772 Mortar sets withinapproximately 30 - 60 minutes.
• Meets IS: 12458 test standards
Â
APPLICATION:
Â
• PFP 772 can be applied by trowel or hand ofpouring in cavity.
• No need for special equipment.
• Surface treatment can be done with PFP 777 Fire-ExCoat - Intumescent coating,  Â
 else non-flammablewater based paints can be applied for colour coding etc.
• Retrofitting: Easy to retrofit with simple toolsPFP 772 bonds excellently to cured PFP 772 / Cement Mortar & Concrete.
Â
TECHNICAL DATA:Â
Â
Filling volume:Â Â Â Â Â Â Â Â Â Â Â Â Â Approx.70 (+/-2) Kg ofmix for 1 Mtr x 1 Mtr x 100 mm thick wall
Solvent to be mixed:Â Â Â Â Water
Appearance:Â Â Â Â Â Â Â Â Â Â Â Â Â Â Â Â Mixture of Grey,white / brown particles
Pot Life:                       Approx. 25 to 30 minutes at+25°C
Full cure time:             Approx. 18 hrs at +25°C
Bond strength:Â Â Â Â Â Â Â Â Â Â Â Â Bonds excellently toconcrete, masonry, Brick etc.Â
Density:Â Â Â Â Â Â Â Â Â Â Â Â Â Â Â Â Â Â Â Â Â Â About 700 (+/- 25) kg/m3
Shore A hardness:     80 after 48 hrs at 25°C
pH values:Â Â Â Â Â Â Â Â Â Â Â Â Â Â Â Â Â Â Approx. 12.0
Mixing ratio:Â Â Â Â Â Â Â Â Â Â Â Â Â Â Â 40% volume of water byvolume.
Fire Rating:Â Â Â Â Â Â Â Â Â Â Â Â Â Â Â Â 100 mm thick wallfor about 2 Hrs & 200 mm thk for about 4 Hrs.
Storage                      Keep dry and insulate ifsurrounding is moisture.
Shelf-Life:Â Â Â Â Â Â Â Â Â Â Â Â Â Â Â Â Â Â 3-6 Months as peratmospheric conditions.
Packaging:Â Â Â Â Â Â Â Â Â Â Â Â Â Â Â Â 20 / 25 kg plastic-lined bag.
PleaseNote: To the best ofour knowledge, this technical data is true and accurate at the date of issuancebut is subject to change without prior notice. Liability, if any, is limited tothe replacement. This warranty specifically excludes labour or cost of labour.
Trade Information
HYDERABAD

Cash Advance (CA)
Yes

Sample costs shipping and taxes has to be paid by the buyer