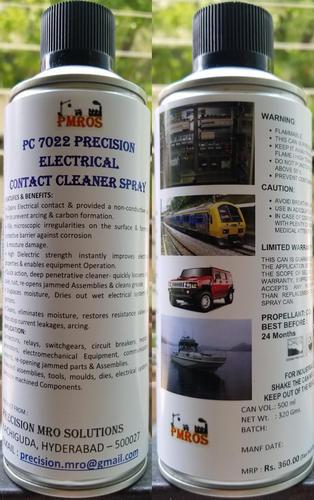 Product Description
* Fills microscopicirregularities on the surface & forms a protective barrier againstcorrosion & moisture damage.
*High Dielectricstrength instantly improves electrical properties & enables equipmentOperation.
* Quick action, deeppenetrative cleaner- quickly loosens dirt, scale, rust, re-opens jammed Assemblies & cleans grease, grime.
* Displaces moisture, Dries out wet electrical systems & ignitions.
* Cleans, eliminatesmoisture, restores resistance valves & helps stop current leakages, arcing.
Prevents breakdowns caused by acid/ alkalifumes, salt air, Moisture barrier.
Prevents corrosion of all electricalequipment during transport (Removal not necessary)
APPLICATION:
a). Electrical:
Connectors, relays, switchgears, circuit breakers, motors,generators, electromechanical Equipment, communication systems, re-openingjammed parts & Assemblies.
b). Mechanical:
Threaded assemblies, tools, moulds, dies, electrical systems,precision machined Components.